We know how hard it is to find good accommodation in and around Gokarna. There definitely is a dearth of good accommodations near Gokarna. Kinara Stay was established to solve the same problem, the lack of good accommodation. Located within just an hour's drive away from the beautiful water town of Gokarna, this place is a quiet and dainty home stay/lodge that is the perfect place to stay at if you are planning on visiting Murudeshwar or Gokarna. Read on to know more about this charming little stay in Kumta.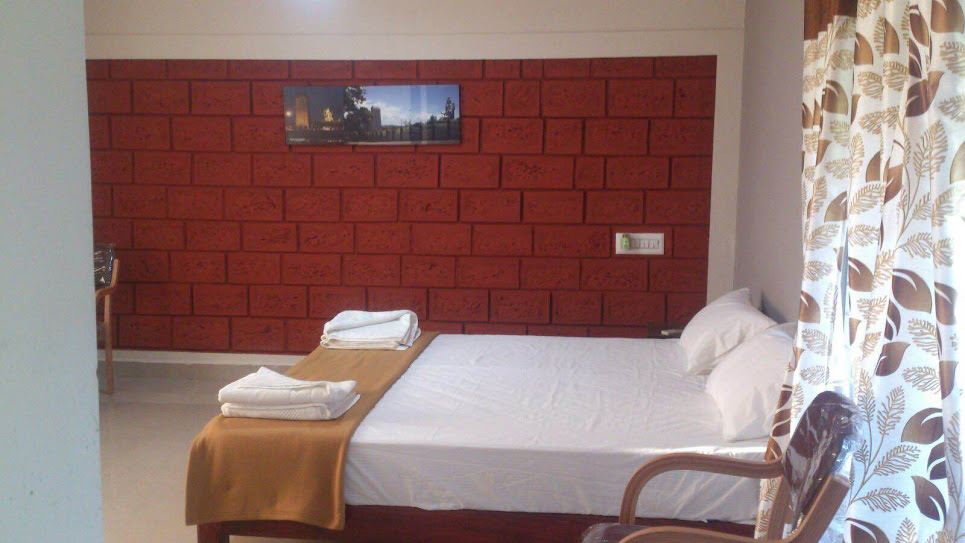 Kinara stay near Kumta
Kinara stay is one of the only few hotels near Gokarna that offers comfortable and exceptional accommodation near Gokarna. This place is located just off the national highway 66 in Kumta right between Murudeshwar and Gokarna. The property is surrounded by lush greenery and there is a small pond right in front of the property. Other than Gokarna and Murudeshwar, the property is quite close to other tourist attractions in Honnavar, Kumta, and surrounding areas. The best part about the property is that it is cut away from all the hustle and bustle of a city life and still close to the tourist spots. Read on to know more about the property:
Stay- The property has ac and non ac deluxe rooms designed very elegantly in earthy tones and muted colours to give the place a classy monochromatic look. Every room comes with an attached bathroom and towels are provided for guests.  The property also offers  family rooms that can accommodate up to 10 people for families that want to stay together.
Dining- The tariff for the room includes both breakfast and dinner. The property has an in house chef who whips out amazing local vegetarian dishes that are tailor made to suit your taste. Though the place offers only vegetarian cuisine, non vegetarian food will be served  on the request of the guest if informed beforehand. The guests can also dine at the many local restaurants when they go out sightseeing. The local cuisine is something everyone should try without fail.
Things to do- Like mentioned already, the homestay is close to Gokarna and Murudeshwar so there is no dearth of tourist spots here. For those of you who want to visit tourist places that are just a couple of minutes away, there are quite a few options such as the hanging bridge in Honnavar or the yana rocks in Yana or the Mirjam fort.