DHARESWARA BEACH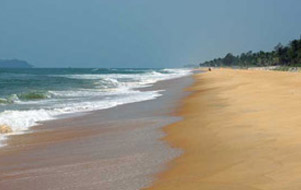 When you are in Dhareswara Beach meet the spirituality and serenity together in one place itself. It has an ancient temple of Lord Mahadev which is believed to be nearly 800 years old temple completed around 1500 to 1559 by Sonappa. This beach place is located in the southeast of Kumta, and it is a home of four inscribed tablets found. Walk on the untouched sands and feel the presence of divinity when you are at Dhareswara Beach. The beautiful Dhareswara Beach is located at the distance of 1 Km from our Kinara Stay.
Best Time To Visit Dhareswara Beach
Similar to other cities and towns in the district of Uttara Kannada, Dhareswara Beach experience the same weather. However, visiting during the right season for beach destination would make an ideal choice for a comfortable vacation. Winter season would be an ideal time to visit this beach place and the months like November, December, January, and February are the best time to visit Dhareswara Beach.
Places To Eat In Dhareswara Beach
There are few hotels you can find in Dhareswara Beach where taste the best seafood and local dishes of your choice. Kinara Stay is also closer to this beach; you can relax the day with us and experience great comfort while on your holiday in Kumta.
How To Reach Dhareswara Beach
Dhareswara Beach is well-connected with good transportation services from various regions of Uttara Kannada cities and towns. From Kinara Stay, the less explored Dhareswara Beach is just at the distance of 1 km. Kumta is the nearest city from where you will get frequent buses to reach this beach place.