GOKARNA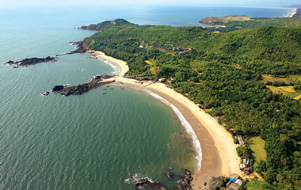 Go on an incredible journey to a destination where spirituality and nature is its habitat. On the banks of Arabian Sea, lies a quiet small town where Western Ghats beauty is its backdrop. Gokarna is a pilgrim yet coastal town of Karnataka located in Uttara Kannada district. It is a temple coast town with mythological significance, Gokarna literally means 'Cow's-Ear'. There is a very interesting story behind the name of town. According to the mythology, once Lord Brahma sent Lord Rudra (another name of Lord Shiva) to patalaloka (down under earth) to go through atonement. Eventually, Lord Rudra emerged from the ear of a cow (named Prithvi), which was synonym for the Mother Earth. As this place served as womb for Rudra where he took rebirth. Hence, named as Gokarna.
Things to do in Gokarna
Located along the Karwar coastline on the banks of Arabian Sea between the Gangavali and Agnashini rivers lies mythological significance town Gokarna. There are many attractions in this small town from temple to beaches that draws everyone with its charisma and significance. Gokarna is known for its beautiful beaches and scenic surrounding of nature. The main Gokarna beach is in northern direction and other beaches lies on south direction. It is a single beach that has formed as 5 individual beaches in different direction.
Gokarna main beach is long open beach near to the temple that is used mainly for religious activities and surfing. OM beach is 6 Km away from Gokarna town, one can access this beach through walking or rickshaw. When viewed accurately, Om Beach is shaped in OM symbol so it is named after that. Half moon Beach and Paradise Beach are accessible only through boat and if you are adventurous then you can reach these beaches by walk. Kudle Beach on the south of Gokarna beach offers amazing breathtaking experience with it natural beauty.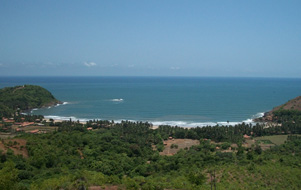 Best time to vacation in Gokarna
Gokarna has a semi tropical moderate climatic condition. October to March is the best time to visit this coastal destination. It is good to avoid visiting Gokarna during summer and monsoon season as the weather will be extreme. In February-March, four days of Shivaratri festival is the celebrated in this pilgrim destination. Chariot procession on the main street and cultural activities are the major attraction of this festival celebrated in Gokarna.
Place to Eat in Gokarna
Gokarna as a coastal town offers delicious seafood and other cuisines from the hotels located inside the town. This tourist destination has standard hotels and luxury restaurants that offers truly authentic yet delectable food of wide-variety.
How to Reach Gokarna
Gokarna is well-connected with major cities of Karnataka on National Highway 17. This tourist destination can be reached by cabs and buses (both state & private buses). There are many local transportations from nearby places to Gokarna. From Bangalore, Gokarna is about 583Km and 238Km from Mangalore and lies just 59Km from Karwar. Gokarna is also reachable from Konkan Railways on the Mumbai to Mangalore route. The nearest airport is Mangalore International Airport at Bajpe and Dabolim International Airport at Goa.