JOGFALLS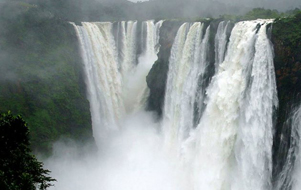 Capture the mesmerizing view of nature in your beautiful eyes and take back the cherishing memory for a lifetime. Jog Falls is such a destination that discloses the spectacular world of nature in a charismatic way. Jog Falls is the second highest waterfalls in India that have been attracting tourists with its magnificent nature and fascinating charm. This world famous falls is also called as Gerusoppa Falls or Jogada Gundi (locally called). Falls from a height of 253 meters ( 829ft ), Jog is a creation of Sharavathi river that is located in the district of Shimoga, Karnataka.
Jog Falls have been divided into four spectacular cascades well-known as Raja, Rani, Rover, and Rocket. In 1948, the project of hydroelectricity was started in Jog Falls. The hydro-electricity project was previously named after Krishna Rajendra, the king of Mysore. Later, the name was changed to Mahatma Gandhi Hydroelectric Project. Until 1960, the power station was served by Hirebhaskara Dam. Because of the visions of Sir M. Visvesvarayya, Linganamakki Dam was constructed across the Sharavathi river and from 1960, the water was used for power generation.
Things to do in Jogfalls
Explore the mesmerizing nature of forest and waterfalls only at one place in Jog Falls. The major attraction of Jog Falls is that it doesn't stream down from the rocks in a stepwise manner like most of the waterfalls. By contrast, the falls cascade down like a thunderstorm sloping with losing contact with the rocks making Jog Falls untiered and highest waterfalls in the country. From all over the world, people visits Jog Falls to see its majestic view. From Watkins viewpoint, one can have a breathtaking view of this misty waterfalls and take a glimpse of Sharavathi Valley covered with luxuriant greenery.
During the offseason, the tourists can step down to the bottom of the waterfalls and also trek to the peak of waterfalls. There are approximately 1400 steps built by Karnataka Tourism Department from the viewpoint to the bottom of the falls. Stepping down from viewpoint to bottom of the falls gives an adventurous experience. There are many other attractions to visit near to Jog Falls, which includes Thyvare Koppa Lion & Tiger Reservoir, Tunga Anicut Dam, Dabbe Falls, Linganamakki Dam, and Sharavathi River. The Jog Falls in Karnataka also makes an ideal destination for hiking or trekking during the season or offseason.
Best time to visit Jogfalls
Jog region experiences tropical climatic condition all throughout the year. Monsoon season is the best time to visit Jo Falls as you could experience incredible viewing of cascading waterfalls. The falls are particularly best during the rainy season when you could see curving rainbows making the mist of this waterfalls colorful.
Place to Eat in Jogfalls
Jog Falls located near Sagara town is India's most visited holiday destination all throughout the year from all over the world. Jog Falls along with enthralling nature also offers great service by providing the best place to stay and eat to its visitors. There are many hotels located in the premises of jog, and also one can stay comfortably in the rooms booked near to the jog falls. Kinara would make an excellent stay near Jog Falls. With Kinarastay you can have a wonderful holiday time with your friends and family during your visit to Jog Falls.
How to Reach Jogfalls
Jog Falls is located near to Sagara town in Shimoga district and also quite near to the main cities of Karnataka. The main transportation that is used to reach to Jog Falls is buses. Many private buses stop-over Jog Falls and also the nearest railway station is Talaguppa Station that is located about 12KM away from Jog.
If you are traveling to Jog in a bus, then Sagara town is a nearby place where you will get ample of buses that go to Jog Falls in every 5 minutes. From Bangalore, the Jog Falls is 416 KM, and Mangalore is 217KM from Jog Falls. Jog Falls is about 235KM away from Goa. There are also many small towns located close to Jog from where you can also reach to falls.